Hamilton Stove Repair Services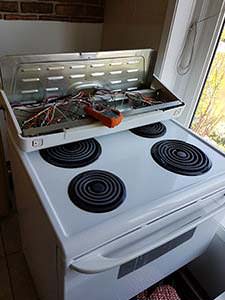 Cooktop and Stove Repair Services You Can Rely On
Before encountering a stressful situation with your stove, it's worthwhile to ensure that it's functioning properly. Max Appliance Repair is able to address any appliance issues you may have on the same day you call, allowing you to resume use of your home appliances quickly. We offer comprehensive appliance repair services for all brands and models of appliances being used in the Hamilton area and its surroundings. Our highly skilled stove repair team can provide you with assistance and ensure that your stove is functioning correctly.
Why Choose Us For Your Stove Repair:
A licensed technician can repair your kitchen appliances

A van equipped with the necessary equipment allows us to provide same-day repairs

Low-cost services, high quality stove repairs

To achieve customer satisfaction, we strive
Freshly prepared meals are a delight to the taste buds. Our company, which is among the top home and kitchen appliance repair companies in Hamilton, can assist you in fixing your stove.
Family Owned Appliance Repair Company
Our family-owned company offers all-in-one appliance repair solutions. We provide warranty repairs and free service calls for home and appliance repairs. Although there are numerous repair service providers in Hamilton, we strive to be the best among them.
Same Day Stove Repair Services
Our stove repair specialists are capable of fixing stoves of any brand and model, which can prevent expensive takeout orders. With our team of skilled professionals, we can promptly and effectively repair your stove to a high standard.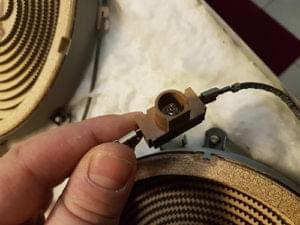 We're Trusted
Our company employs some of the most highly skilled and seasoned technicians in the field, with stove repair being one of their areas of expertise. By engaging our company, you can expect to receive professional and comprehensive stove repair services. Our technicians are committed to providing top-notch care and precision for each appliance, ensuring that they are in optimal condition. Our team prioritizes the safety of our clients throughout the entire process.
Most Common Stove Problems
Common issues with stoves include burnt-out burners, malfunctioning oven doors, and temperature control problems, which may necessitate replacement or modification. Routine maintenance, such as cleaning grease buildup or repairing wiring, may also be required. It's important to address these stove repair problems promptly rather than delaying them. Our team of experts is capable of handling any stove appliance that requires repair.
You are unable to adjust the heat on your unit
The knobs are broken
The coils are not heating
The coils are damaged or are loose
The electric supply is not working properly
Stove burner won't heat
Stove can't maintain temperature
Your safety is best taken care of by a professional who has experience in this field.
To schedule stove repair services, call

 

(705) 710-5905
Stove Brands We Repair in Hamilton
Our team in Hamilton services multiple stove brands, including but not limited to Electrolux, Frigidaire, GE, Kitchenaid, Maytag, Samsung, and Whirlpool. If you encounter any issues with your stove, such as a damaged door or malfunctioning burner, our technicians are capable of providing assistance.
We Repair Appliances All Across Hamilton
Our same day service all across Hamilton means that you don't need to deal with long wait times or high prices.
Neighborhoods We Serve in Hamilton
Ainslie Wood
Albion Falls
Alexander Park
Allison
Ancaster Village
Balfour
Barnstown
Bartonville
Beasley
Berrisfield
Binbrook
Birdland
Blakely
Bonnington
Broughton
Bruleville
Buchanan
Burkhome
Butler
Carpenter
Centremount
Chapel
Chedoke Park B
Cherry Heights
Community Beach
Cootes Paradise
Corktown
Corman
Crerar
Crick
Crown Point
Delta
Duff's Corners
Dundas
Durand
Eastmount
Eleanor
Elfrida
Falkirk
Fessenden
Flamborough
Gibson
Gilbert
Gilkson
Glenview
Gourley
Grayside
Greenford
Greenhill
Greeningdon
Greensville
Gurnett
Hamilton Beach
Hampton Heights
Hannon
Harmony Hall
Heritage Green
Hess Village
Hill Park
Homeside
Huntington
Inch Park
International Village
Jamesville
Jerome
Keith
Kennedy
Kernighan
King's Forest Upper
Kirkendall
Lakely
Landsdale
Lawfield
Leckie Park
Lisgar
Macassa
McQuesten
Meadowlands
Mewburr
Millgrove
Mohawk
Mount Hope
Mountview
Nashdale
Normanhurst
North Glanford
Oakhill
Parkview
Pleasant Valley
Quinndale
Raleigh
Randall
Red Hill
Riverdale
Rockton, Ontario
Rolston
Rosedale
Rushdale
Ryckman's
Rymal Station
Sherwood
Southam
St. Clair
Stinson
Stipeley
Stoney Creek
Strathcona
Sunninghill
Templemead
Thorner
Tony Creek
Trenholme
Twenty Place
Vincent
Waterdown
West Flamborough
Westcliffe
Westdale
Winona
Yeoville
Stove Repair Questions
When your stove needs repairs, you are bound to have a few questions. Here are some of the most commonly asked questions and answers to help set your mind at ease.