Hamilton Washer Installation Services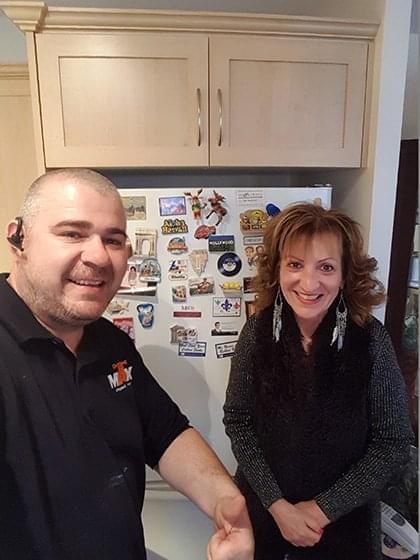 Washer installation is the process of setting up and connecting a washing machine. It involves unpacking, positioning, connecting hoses, and ensuring proper alignment. Professional installation ensures a correct setup for optimal performance and longevity. 
Don't try DIY. Why call our appliance service technicians for your washer installation instead of attempting a DIY project? Because when it comes to appliance services in Hamilton, we are the experts you can rely on for precise and reliable appliance setup. Our commitment to delivering exceptional service, combined with our expertise, attention to detail, and experience, ensures that your washer is installed correctly the first time around.
Avoid taking chances with your washer installation – trust the professionals at Max Appliance Repair Hamilton. Contact us today to schedule an appointment, (705) 710-5905 and experience the difference our expert technicians can make in setting up your washer for optimal performance.

Rely on Our Experts for Precise and Reliable Appliance Setup
Leave washer installation to the experts at Max Appliance Repair Hamilton!
1. Expertise and Proficiency:
At Max Appliance Repair Hamilton, our highly skilled technicians specialize in washer installation. With years of experience and knowledge of various washer models, they ensure correct installation, minimizing future malfunctions and repairs.
2. Accurate Alignment and Leveling:
Proper alignment and leveling are crucial for a quiet and efficient washer. Our technicians pay meticulous attention to detail, ensuring your washer is perfectly aligned and leveled, preventing excessive noise, vibrations, and floor damage.
3. Time and Effort Saved:
We value your time and convenience. Our technicians come fully prepared with tools and expertise to handle the entire installation process efficiently. Sit back, relax, and let us take care of the hard work while you focus on other tasks.
Essential Supplies and Tools for Washer Installation:
Warning: Attempting to install your washer on your own can lead to injuries and improper installation.
These supplies and tools work together to ensure a successful washer installation. At Max Appliance Repair Hamilton, our technicians come fully equipped with the necessary supplies and tools, guaranteeing a smooth and efficient installation process.
Supplies:
Hoses: These are flexible tubes that connect the water supply to your washer for proper water intake and drainage.
Connectors: These fittings are used to connect hoses to the water supply and the washer securely.
Electrical Components: This includes power cords and plugs to connect your washer to the electrical outlet.
Safety Equipment: Gloves and other safety gear are important supplies to protect yourself and your property during the installation process.
Tools:
Leveling Tools: These tools, such as a bubble level, help ensure that your washer is properly aligned and leveled for optimal performance.
Wrenches: Wrenches are used to tighten and secure various connections during the installation process.
Screwdrivers: Screwdrivers are necessary for loosening or tightening screws and other fasteners during the installation.
Measuring Tape: This tool is used to accurately measure and position your washer for proper placement and alignment.
Pliers: Pliers are helpful for gripping and securing components like hose clamps and connectors.
Our Mobile Vans – Your Convenience: At Max Appliance Repair Hamilton, we prioritize your convenience. That's why our service vans are fully stocked and equipped with all the necessary supplies and tools for a seamless and hassle-free washer installation. No need to worry about gathering equipment or making multiple trips to the store. Our technicians arrive at your doorstep with everything they need, saving you time, effort, and unnecessary stress. Sit back and relax while our experts handle the entire installation process with utmost professionalism and efficiency.
Bonus DIY Tips for Washer Maintenance and Cleaning:
By following these tips, you can help keep your washer tidy and ensure it continues to work properly for years to come.
Clean the drum: Regularly wipe down the drum of your washer with a damp cloth to remove any dirt or residue. This helps prevent buildup and keeps the interior of your washer clean.
Check and clean the detergent dispenser: Remove the detergent dispenser tray and clean it thoroughly. Use warm water and a mild detergent to remove any residue or buildup. Make sure to dry the dispenser before putting it back in place.
Run a cleaning cycle: Periodically run a cleaning cycle with an empty washer to remove any bacteria, mold, or mildew. You can use a washer cleaner or simply run a cycle with hot water and vinegar to clean the drum.
Keep the door or lid open: After each use, leave the door or lid of your washer open to allow air circulation. This helps prevent the growth of mold and mildew inside the machine.
Check and clean the filter: Some washers have a filter that traps lint and debris. Check your washer's manual to locate the filter and clean it regularly to maintain optimal performance.
Use the right amount of detergent: Overloading your washer with detergent can lead to residue buildup. Follow the manufacturer's guidelines for the correct amount of detergent to use.
Avoid overloading the washer: Overloading the washer can strain the motor and other components, leading to potential issues. Follow the recommended load capacity for your washer to ensure efficient and effective cleaning.
Remember, if you ever encounter complex issues or need professional assistance, don't hesitate to reach out to Max Appliance Repair Hamilton for expert washer repair services.
Washer Brands We Install in Hamilton, Ontario
As a leading appliance service provider in Hamilton, Max Appliance Repair Hamilton is experienced in installing a wide range of washer brands. Whether you own a top-loading or front-loading washer, our technicians are well-versed in the installation processes of various brands. From Whirlpool and Samsung to LG and Maytag, we have the expertise to handle them all. Trust us to ensure that your washer is installed correctly, regardless of the brand or model.
We Repair Appliances All Across Hamilton
Our same day service all across Hamilton means that you don't need to deal with long wait times or high prices.
Washer Installation – FAQs
Can I use my existing water and electrical connections for the new washer?
In many cases, existing water and electrical connections can be utilized for the new washer, especially if it's a replacement. However, it is important to have our professional technician assess the connections to ensure they meet the requirements of the new washer and comply with local building codes and safety standards.
What preparations do I need to make before washer installation?
Before the installation appointment, make sure the area where the washer will be installed is clear and accessible. Remove any objects or items that may obstruct the installation process. Additionally, ensure that the necessary water supply, drainage, and electrical connections are available.